Website Terms of Use
Website Terms and Conditions
These Website Terms and Conditions are governed by the law of England and Wales and the parties submit to the excusive jurisdiction of the Courts of England and Wales in all disputes relating to them.Revive Holistic and Beauty Therapies is the owner or the authorised licensee of the copyright in the materials on this website. Unauthorised use of the materials, including reproduction, modification or distribution without our prior consent is strictly prohibited
Information Disclaimer
The information on this website is provided as a guide only. Whilst every effort has been made to ensure that the above information is accurate and up to date, Revive Holistic & Beauty Therapies does not accept liability in respect of any omission or error in the information provided.
The information provided is for informational purposes, does not include all available sources, and is not intended to be a prescriptive or medical guide.
No liability is accepted in respect of any reputed therapeutic characteristic. The liability of Revive Holistic & Beauty Therapies is limited to the value of the goods and does not include any consequential loss.
Revive Holistic & Beauty Therapies shall not be liable for any errors or delays in the content, or for any actions taken in reliance thereon.
Revive Holistic & Beauty Therapies shall not be responsible for any damages resulting from use of or reliance upon information contained on this site.
The views expressed on the blog are the author's own and are provided for informational purposes only. The author makes no warranties about the suitability of any product or treatment referenced or reviewed here for any person other than herself. Any reliance placed on these reviews or references by you is done so solely at your own risk. Nothing on this site shall be construed as providing dermatological or medical advice. If you have any health and/or skin care conerns, please seek the advice of a Doctor or other medical professional.

The purchaser should always satisfy her/himself as to the ultimate suitability and safety for an intended application. Revive Holistic and Beauty Therapies accept no liability in the unlikely event of an adverse reaction occurring when using one of its products or ingredients.
Some products or ingredients, even natural ones, can cause an allergic reaction in some individuals. Always try a test patch for at least 24hrs or discontinue use of any product or ingredient suspected to cause a problem. You should consult your physician or appropriate medical reference for any advice regarding specific health concerns or treatments.
The user of the product is solely responsible for compliance with all laws and regulations applying to the use of the products, including intellectual property rights of third parties.
Keep all products and ingredients out of eyes and away from children's reach

Privacy Policy
This privacy policy sets out how Revive Holistic and Beauty Therapies uses and protects any information that you give when you use this website.
Revive Holistic and Beauty Therapies is committed to ensuring that your privacy is protected.
Should we ask you to provide certain information by which you can be identified when using this website, then you can be assured that it will only be used in accordance with this privacy statement.
Revive Holistic and Beauty Therapies may change this policy from time to time by updating this page. You should check this page from time to time to ensure that you are happy with any changes. This policy is effective from July 2012
Last Updated: April 2018
What we collect
Website Accounts, Email or SMS Marketing: With your consent we may collect the following information : name, contact information including email address, telephone number, demographic information such as address and postcode.
If you would like to have your online account details removed, please email me on [email protected] For email and SMS marketing, there is an option to opt out in each communication you receive.
Customers who have Treatments: We collect the above details plus medical history to ensure that the treatment is safe to be carried out and also in accordance with our insurance policy. This information is held for 7 years (as required by insurers) and is then securely shredded or deleted.
What we do with the information we gather
We require this information to understand your needs and provide you with a better service, and in particular for the following reasons:
Email or SMS marketing
Online accounts and order processing
To ensure that it is safe for you to proceed with a holistic or beauty treatment.
Security
We are committed to ensuring that your information is secure. In order to prevent unauthorised access or disclosure, we have put in place suitable physical, electronic and managerial procedures to safeguard and secure the information we collect online.
Any online card payments are processed through a secure server. This information is not stored after the payment has been made.
We will not sell, distribute or lease your personal information to third parties. The only exception to this is if we have concern for your safety or the safety of the general public in relation to yourself. In which case we have a duty to inform health and social care professionals.
If you believe that any information we are holding on you is incorrect or incomplete, please write to or email us as soon as possible, at the above address. We will promptly correct any information found to be incorrect.
If you would like access to any information held about you, you can also request to view this information.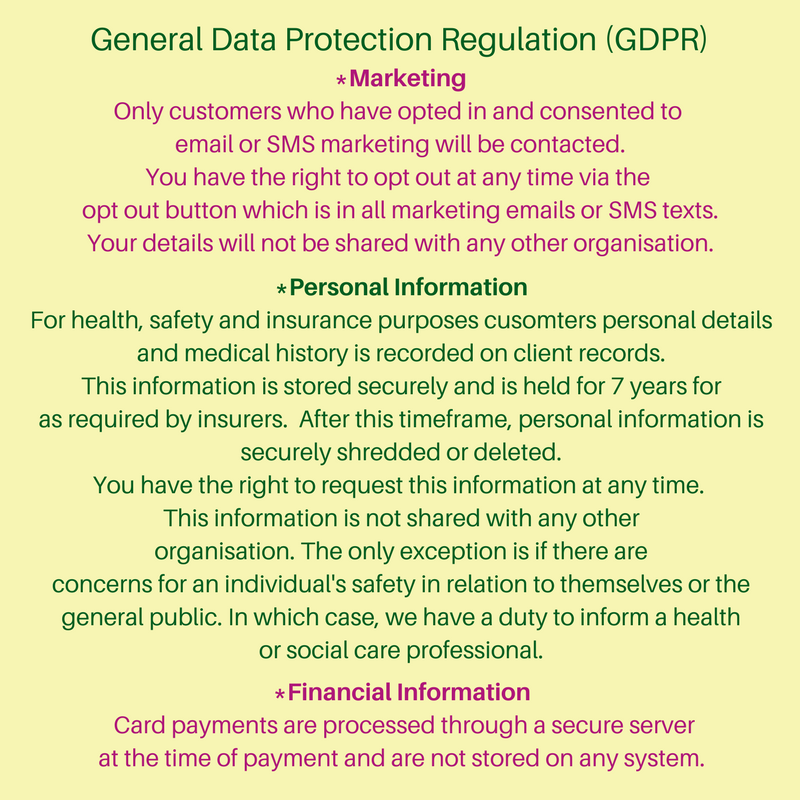 How we use cookies
A cookie is a small file which asks permission to be placed on your device. Once you agree, the file is added and the cookie helps analyse web traffic or lets you know when you visit a particular site. Cookies allow web applications to respond to you as an individual. The web application can tailor its operations to your needs, likes and dislikes by gathering and remembering information about your preferences.
Overall, cookies help us provide you with a better website, by enabling us to monitor which pages you find useful and which you do not. A cookie in no way gives us access to your computer or any information about you, other than the data you choose to share with us.
You can choose to accept or decline cookies. Most web browsers automatically accept cookies, but you can usually modify your browser setting to decline cookies or you can use private browsing if you prefer.
Cookies can also be manually deleted, to do this visit the help section of the particular browser you use e.g Internet Explorer, Firefox, Chrome help sections.Cookies we useSocial Buttons we use add this to enable you to share information you find on our site
Partner links Cookies are used by third party companies when partner retailer links are clicked in order to administer the affiliate revenue system. These are required to operate the service. No personal information is collected.
Links to other websites - Our website may contain links to other websites of interest. However, once you have used these links to leave our site, you should note that we do not have any control over that other website. Therefore, we cannot be responsible for the protection and privacy of any information which you provide whilst visiting such sites and such sites are not governed by this privacy statement. You should exercise caution and look at the privacy statement applicable to the website in question.
Affiliate Links - Disclaimer
This website and blog includes details on, or links through to information provided by other websites. Revive Holistic and Beauty Therapies has no control over the the accuracy or completeness of that information.
Website users must take full responsibility for using that information and verifying it and for any decision to use, purchase or refrain from purchasing any of the services or products mentioned on a linked site.

If you do purchase products or services from another website please read their contract carefully before deciding to buy.
Some of the links included on our website blog contain affiliate links. These are links which take you directly or indirectly to a product or service, which may result in me receiving a fee or commission as a consequence of you clicking through to their site or purchasing a product from them.
Any links to third party websites are not subject to our Privacy Policy. We recommend you read the privacy policy of any websites you visit.
Reviews
My integrity and honesty in reviewing products and services is paramount to me and so any reviews containing affiliate links are not influenced by any fee/commission received by financial providers.
Any reviews I provide are based on my own professional experience with a particular product or service and will have been paid for with my own money, with the exception of free offers available to the general public.
If this situation changes and I receive any free products or services in sponsored posts, I will state this in the review.